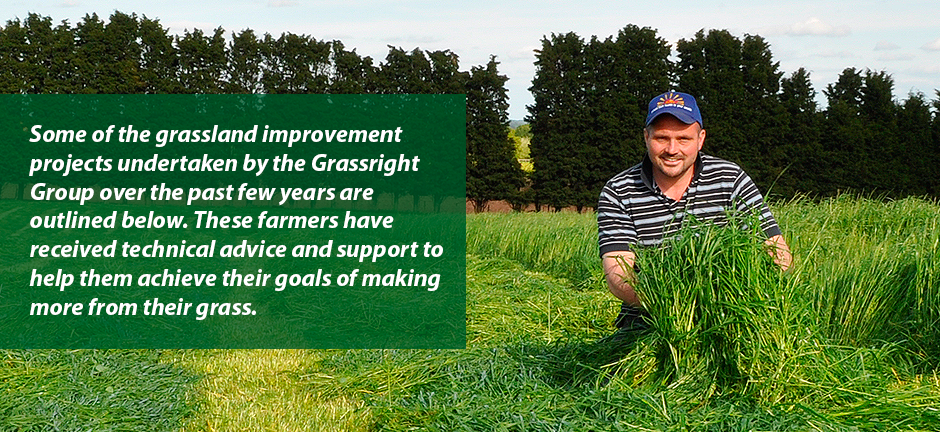 Worcester Dairy Farmer, Dave Richards
Dairy farmer Dave Richards of Ridgend Farm near Worcester is currently receiving technical advice and practical support from the Grassright Group to improve his grassland productivity. He milks 150 cows and has a flock of 360 sheep.
The dairy herd is currently yielding just over 8500 litres per cow. By working with the Grassright Group, Dave hopes to increase his silage yields and the productivity of his grazing fields too. This will help support his plans to expand herd numbers to around 250 and increase milk yield to over 9000 litres per cow.
Dave admits to having reduced some inputs on grassland management in order to save money, but this may have been a false economy. He explains: "Over the last two years, I have pulled back on the use of fertilisers but my contractor recently suggested that if I had put more fertiliser on my silage fields, I might have had more grass."
In the autumn of 2011, members of the Grassright Group visited Ridgend Farm to carry out initial field inspections, and make recommendations.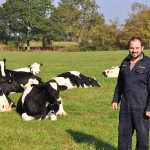 John Spence of Limagrain UK explains: "In some fields there were a lot of weed grasses – at a distance these look like ryegrasses, but in reality they are not as palatable and are of lower nutritional value. In these cases a plough and reseed offers the best solution for Dave. In other fields, where the sward was thin or patchy, then overseeding was recommended."
In September 2011, Dave used an OPICO grass harrow and seeder to harrow and overseed several of the silage fields using Monarch cutting mixture, Maxiyield – a high tetraploid silage mixture – which has boosted DM production and extended the life of the ley.
OPICO's Neil Robinson said: "Harrowing is a much under-utilised practice, it brings up the trash and dead material from the base of the sward, allowing air to get to the roots, releasing any locked up surface nitrogen. With the combined OPICO harrow and seeder set-up, Dave has been able to harrow and overseed with one piece of kit."
Also, a field trial with two red clover/ryegrass mixtures is showing significantly greater DM yields in the areas sown with the Limagrain seed mixture compared to the cheaper mixture previously used.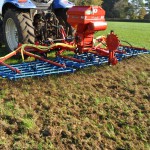 In December, the dry mild weather created the right conditions for grassland subsoiling to be carried out, to remove the compaction that had developed in some fields.
The combination of soil testing and Growhow's nutrient management programme has proven highly useful – slurry applications are now more targeted to where they are most needed, and fertiliser use is planned alongside this to address the nutrient requirement for each utilisation, be it cutting, grazing, or a crop.
Elaine Jewkes from GrowHow explains: "We have created a nutrient plan that incorporates Dave's manure use and intended utilisation of each field. Over the next year or two, we will ensure that the whole farm has up-to-date soil tests, so that the most accurate plans can be put in place."
Ultimately, the Grassright Group aims to help Dave improve his grass yields – particularly in the silage fields, and help support higher milk yields for his herd.
Download
To get the full story, download the article which was published in the March 2012 issue of British Dairying (reproduced by kind permission).