Cumbrian farmer Edward Dean received advice from the Grassright Group over a three year period (2009-2012). In 2009, Edward was running 150 Limousin-cross spring-calving suckler cows, selling calves as 12month old stores. A small flock of sheep served as a grazing management tool.
During the three year period, grassland improvement made leys more productive: it increased the 12-month liveweights for store calves from the suckler herd, and the higher stock-carrying capacity enabled flock number to increase from 50 to 165 ewes; soil nutrient status and pH were monitored annually so fertiliser and slurry applications were targeted more effectively; poor performing leys were reseeded or overseeded with grass seed mixtures, selected according to field use; and grass growth was further been enhanced by sward-lifting to improve drainage, and harrowing to remove trash and aerate roots.
In fact, after just two years of grassland improvement activities, Edward had a lot more grass, ewe numbers doubled to 100, and store calf weights were higher.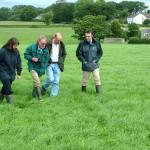 In early 2009, the Group's first action at Kirkhouse Farm near Brampton, was to walk the fields and score them for ground cover, and sward content – noting whether the grasses were weed types or productive ryegrasses. Decisions were then made on which leys needed priority, and what activities were needed to improve the grass yields.
Soil samples were also analysed, allowing a comprehensive nutrient management plan to be drawn up, highlighting areas most in need of mineral inputs. Having the P and K status of the whole farm mapped out showed which fields were lacking in nutrients, and Edward can now target slurry applications more effectively.
It also changed his strategy on fertiliser inputs – he used to take a 'cheap and cheerful' approach and just buy straight nitrogen. But soil analyses revealed low potash levels, and so a compound fertiliser is now used to make up the deficiency. And on the silaging fields, the fertiliser formulation includes extra sulphur as this was in short supply and may have been limiting silage protein levels.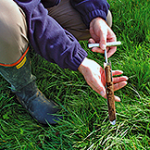 Docks had largely been controlled on the farm however silage fields received a maintenance rate of a dock-specific herbicide in 2009, to control seedlings. This was completed early in the year to ensure the maximum benefit to the first cut silage.
Another factor in achieving a productive sward is ensuring good aeration of the sward root zone and soil, and ensuring that air and water can move through the soil profile. The initial field inspections revealed soil compaction incurred by machinery and livestock. Edward tackled this issue using an OPICO sward-lifter to subsoil the ground, breaking the mineral pan below the surface and improving drainage. The ground is noticeably drier sooner in the spring.
Slitting was also carried out on selected fields to improve the oxygen interchange through the soil surface. The result of aerating the ground using the OPICO Sward-Slitter was very visual – the grass grew better and there was a very marked improvement to clover growth too.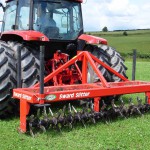 Harrowing will also improve air circulation to grass roots and stimulate growth. This has now become a routine part of Edward's grassland management routine: using an OPICO tine harrow, dead material and trash from the bottom of the sward is removed, opening it up and allowing air down to the roots.
Edward used to seed with a fertiliser spreader but this did lead to some uneven sowings. However, switching to using the OPICO harrow with a seeder attached has not only produced more even cover, it also saved time.
In 2011 – the final year of the project – Edward oversowed clover into established leys, in a bid to reduce fertiliser requirement, and improved the protein and mineral content of his grassland.
Download
For more information on the Grassright Group's activities at Kirkhouse Farm, you can download an article from the BGS Grass and Forage Farmer April 2010 (reproduced by kind permission).