Taking control of silage-making has boosted production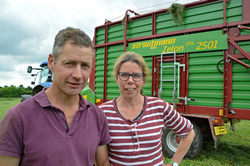 A move to DIY silage-making using a forage wagon has helped one organic Somerset dairy get milk from forage up over the 5000-litre mark.
Getting cows to produce decent quantities of milk throughout the lactation in an organic system can be something of a challenge given the limited range of available sources of concentrate protein and energy. But it isn't an impossibility if more emphasis is placed on producing those essential ingredients from home-grown forage rather than bought-in feed.
Proving that point, Somerset producers Rachel and Joe Horler have this year breached the 5000-litre barrier for milk from forage, taking the average yield from their 85 Holstein Friesian, Jersey and cross-bred cows to 7800-litres/year.
"We're on a liquid organic contract with Coombe Farm and so our main driver has to be volume, but to do that we have to concentrate very hard on making sure our cows are as well fed as possible," explains Mrs Horler.
"We're using cross-breeding to make the most of hybrid vigour and ensure our animals are long-lived, but the biggest factor in maximising  yield comes from the quality of the forage.
"We realised a long time ago that we couldn't justify the cost of buying in expensive organic-certified feed to maximise milk production and extend lactations, so we've experimented with various different forage crops to raise protein and energy levels of home-produced fodder."
As such, the cropping at Maundrils Farm near Bridgwater is particularly varied.
Much of the silage comes from four- to five-year white clover leys, although a good proportion of the total yield comes from three-year red clover/ryegrass cutting leys.
Spring barley for wholecrop provides the lion's share of home-grown starch as well as providing a good entry for undersown legumes and species-rich mixes. It is in this latter department that the experimentation has really paid off. Combinations of ryegrasses with more traditional timothy, cocksfoot and fescues are combined with red and white clovers, chicory, yarrow, burnet, ribwort plantain and sheep's parsley. Predominantly these are grazed, although this year for the first time, they have been mown and clamped when they have got a long way ahead of the cows.
"We find the herbal leys help to provide a good mix of nutrients throughout the grazing season and are proving to be useful in dry summers due to the deeper rooting nature of the mixed species. Almost half the acreage is  permanent pasture including some SSSI. So we need to optimise what we can grow on the ploughable fields such as shorter term red and white clover leys and wholecrop silage to provide a well-balanced ration through the winter. If necessary, buffer feeding will commence during August to support fresh calvers.
"Because of our reliance on silage rather than bought-in concentrates we have to really focus on producing forage of the best quality. To do that we have to catch the grass and clovers at optimum MEs and D-value, minimising NDF. That means making more cuts than you would usually take to get the crop at a young growth stage."
Until last year that was done by a contractor with a Strautmann Giga Vitesse forage wagon but using a contractor to pick up small areas of light crops on a frequent basis clearly was not going to be cost-effective in the long-term.
"We could not fault the contractor for the service he provided and for being so flexible," says Mrs Horler. "But we didn't feel it was fair to ask him to travel to pick-up less than twenty acres at a time and, given how light the crops are when you're cutting them young, the cost per tonne was high.
"Increasing the daily acreage for the contractor meant that compromises were made on growth stages of the crops and whilst some fields were too mature others were not quite ready.
"As we're only a small farm, we can't expect to be top of contractors' priority lists when they've got other bigger jobs to do. All of that made us start to think about making our own silage."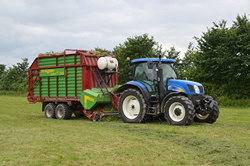 A number of silage bales are generally made at Maundrils each year but given the increased risk of spoilage and the issues with disposing of the plastic they generate, the Horlers try to keep bale numbers to a minimum. The farm doesn't have a mixer wagon so it is difficult to chop bales. Dry matter intakes are found to be higher with good quality clamped silage than bales – particularly if more than one type of forage is in the ration.
Their experience over the last five years had proved to the family that a forage wagon can do a decent job of chopping to a decent length, enabling silage to be clamped properly. It has also highlighted the importance of crop maturity. Because of this, first cut tends to be taken at the start of May, which is quite early in the season for organic farms which have not used artificial nitrogen and it is often the case that the second cut in early June is a heavier crop.
"We've found over time that the best silage is made by spreading thin, well-rolled layers of each cut along the full length of the clamp, which is time-consuming. We have long, narrow clamps which are brilliant for minimising spoilage at the face but contractors dislike them for filling.
"That helped make the case for doing it ourselves, so last year we started looking seriously at our options."
Running any form of forage harvester was never considered because of the power required and the labour needed for the operation. A self-loading forage-wagon was seen as the best option, particularly given the Horler's experience with their contractor's machine. Finding a small enough model that could be handled by the farm's 100hp New Holland TS100 was critical.
"We'd seen the Strautmann wagon could do the job and it had proved reliable for our contractor which gave us confidence in the brand. The dealer – Halse of Honiton – was very straightforward to deal with and had a small 23cu.m Zelon model in stock that matched our tractor. We did some sums and were confident  that we could make it pay. It arrived last April in time for first-cut."
Last year it was used to pick up 79 loads off 60ha (148acres) over the course of eight different cuts. This season it will cover a similar amount of ground.
"Any concerns we had about having enough power to run the wagon were unfounded and we're definitely using less fuel than a forager and a full silage gang," says Mr Horler.
"Being below sea level the entire farm is flat so we only need the power for chopping – 100hp is plenty. That's helped by the spiralled crop transfer roller on the pick-up which spreads the grass across the full width of the knife-bank and helps give an even chop length.
"We went for extra rollers on the underside of the pick-up to aid contour-following on some of our heavily-gulleyed ground and being able to adjust drawbar height hydraulically from the cab means we're always clearing the ground cleanly."
Given the average distance from silage leys to the clamp is about half a mile and field sizes are generally small (3-3.5ha / 8-9acres on average), outputs are typically about 1.6-2ha/hour (4-5acres/hour). As regards knife wear, Mr Horler turned the reversible blades round midway through last season and only had them sharpened last winter having completed 60ha (150acres) of work, so running costs have been relatively low.
The Zelon's big 500mm wide tyres have helped minimise the impact on the Horler's delicate, damage-prone ground.
"We're very conscious of looking after our soils. Now, we have the option of not going silaging when ground conditions aren't suitable.
''Understandably with a contractor we would have to go when they could fit us in and often that could be when it is wetter with the result that we could cause  compaction issues with big, heavy kit in less than ideal conditions."
Aside from the benefits of taking control of silage making back in house, the wagon has helped in the other key objective of reducing bale counts and therefore limiting waste.
"We're making more of every tonne of forage harvested and so hopefully we'll become less reliant on purchased feed." concludes Mrs Horler.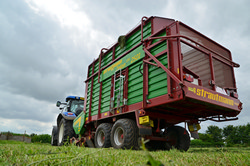 "The approach of making more cuts through the season to catch the crops at optimum quality has clearly paid off. This time last year we were achieving just over 4000-litres of milk from forage. This June, helped in part by a better grazing season, we topped 5000-litres – an increase of 20%.
"We hope if we continue to pay attention to detail we can maintain this level going forwards and continue to fill the clamp with quality silage. This ultimately lowers our costs of production.''
DIY SILAGE-MAKING AT MAUNDRILS FARM
– Timeliness – allows crops to be harvested at optimum quality
– Not reliant on contractor availability – small farm, low priority
– Low power requirement – 23cu.m wagon only needs 100hp tractor
– Suits labour availability – often finished and sheeted down before afternoon milking
– Soil care – silage not made when land is wet
– Clamp management – multiple cuts spread and rolled in thin layers for optimum fermentation and minimal spoilage
– Work rates of 1.6-2ha/hour (4-5acres/hour) – well-matched to JCB Loadall buck-raking and plenty of time for 2wd tractor rolling
FARM FACTS
Maundrils Farm Partnership, near Bridgwater, Somerset
Farmed area 78ha (all organic)
Stocking          85-cow milking herd averaging 7800-litres/year.
Mix of Holstein Friesians, Jerseys and cross-breds.
Av. butterfat 4.45%, av. protein 3.44%. SCC 100-110.
Calving one third Feb/March, two thirds June to October.
Calving index 378 days.
Milk from forage 5000-litres.
Cropping
White clover leys 26ha. Red clover leys 7.5ha. Spring barley for wholecrop 6ha. Herbal leys 10ha. Permanent pasture 28ha.
Soils
Grade 2 and 3 clays and sandy loams. Entire farm drained land below sea level.
Machinery
Tractors – 100hp New Holland TS100/110hp T6020 and 75hp 6640
Loader – JCB 526-56 Loadall
Forage wagon – 23cu.m Strautmann Zelon 2501